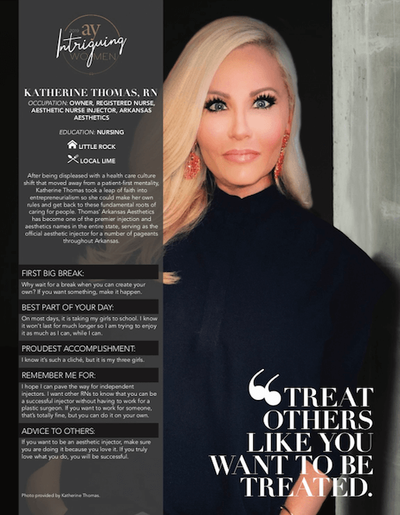 "The Best Work is Invisible"
Katherine Thomas, RN, started her nursing career at Arkansas Children's in the Cardiovascular Intensive Care Unit. During her nursing career, she has had many roles in the medical field but has found her true love in facial aesthetics.
Tired of corporate America, Arkansas Aesthetics was started with a $600 investment of a vial of Botox and now has grown into multi-million dollar company, with locations in Little Rock, and Conway.
Arkansas Aesthetics was built with a genuine belief that the most important thing we can deliver is not only physical improvements, but an increased self-confidence.
As an industry leader in aesthetics, Katherine trains medical professionals on both Galderma Aesthetics and Allergan products, the two largest cosmetic medical injectables in the United States.
She is featured in numerous notable publications including Soireé and Ay Magazine. She is proud to have been selected in the Soireé Women to Watch campaign, Most Intriguing Women for AY Magazine, Chosen for Galderma's Woman's Leadership Council, Best Non-Surgical practice in Arkansas, and Arkansas Best Healthcare Professional.
She is also The Official Aesthetic Injector for the Mrs. Arkansas International system, The Official injector for Mrs. Arkansas America, Miss Arkansas for America, and a proud sponsor for Miss Arkansas and Miss Arkansas Outstanding Teen.
She has been named one of the top 100 injectors in America three years in a row, out of over 52,000 injectors. She is the only injector in Arkansas to receive this award.
Arkansas Aesthetics believes in giving back and are actively involved in supporting The Blue Door Sponsorship and donating to charitable events, raising thousands of dollars for local partners.
Katherine is more excited than ever for her team to continue providing the best care in the field of natural-looking, non-surgical facial aesthetics.
Arkansas Aesthetics will always strive to be a place that delivers the best results and genuinely cares about the person. We look forward to seeing you at any of our locations.
Arkansas Aesthetics
Copyright © 2021 All rights reserved